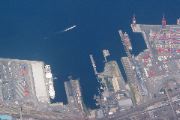 Photos by Derek K. Miller (and others)
I am not an especially talented photographer, but people do pay me for the service sometimes, and taking pictures has been one of my hobbies for nearly twenty years. I used to take pictures for student yearbooks, handbooks, and newspapers. I've been paid to take pictures as part of other writing and editing projects, and have also been a low-budget photographer for a few weddings. Mostly I just do it for fun, though.
I've made some of my photos available online:

Page BBEdited on 04-Feb-07
Home | About | Essays | Work Samples | Editors' Association | Expertise | Clients
Photos | Music | Archives and Site Index | XML Syndication Feed | Contact Me
Site problems? Gripes? Angst? - e-mail dkmiller@penmachine.com
Site contents © 1997–2007 by Derek K. Miller
You may use content from this site non-commercially if you give me credit, under the terms of my Creative Commons license.