This piece was originally published in my journal/weblog on Thursday, 28 August 2003.
<< Penmachine.com home | < Long article index
Office at the beach
Setting up long-distance Wi-Fi wireless networking and a Voice Over IP (VoIP) telephone 1.5 km from an Internet connection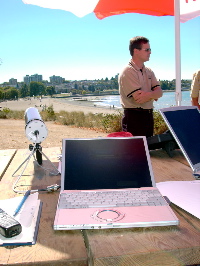 Kitsilano Beach is probably Vancouver's most famous. It's just south of downtown, on the opposite shore of English Bay, and on hot summer days hosts thousands of suntanners, swimmers, volleyball players, windsurfers, and wet dogs.
It was not, however, where I expected to be invited to see a high-tech publicity stunt. The e-mail called it "office on the beach," featuring wireless Internet and telephone services based on Internet Protocol (IP), also called Voice Over IP (VoIP). (Say that a few times fast: voip! voip! voip!) The company behind it was Netcetera, a local computer consulting firm, with some backing from networking giant 3Com, which makes VoIP phone systems.

I wasn't sure what to expect yesterday afternoon. A full-size office desk with green banker's lamp, desktop PC, phone, and suit-and-tie worker typing away from an executive chair on the sand? A small cubicle farm with Dilbert comics on the walls? Not quite. It was a less ostentatious affair: a couple of laptops (top left), one with a directional wireless antenna, and a 3Com IP phone perched on a picnic table in the sun (right).
Now, if you want to pay a commercial provider, you can trundle down to Kits Beach with your wireless laptop and log on without wires. But Netcetera was trying to demo something more interesting than that.
The virtual office in the sun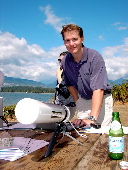 Rick Beecroft (left, behind the directional wireless antenna) is Senior Business Analyst at Netcetera. (Where do they come up with these fancy titles?) He told me that Netcetera has no office: its seven staffers all work from home. They share a single VoIP-based phone system on the same prefix, so anyone calling reaches what seems like a single office. But the people "in" that office are all over the city—and could theoretically be almost anywhere in the world.
As part of that initiative, one of Netcetera's employees, who lives in an apartment not far from Kitsilano Beach, wondered whether he could do some work there when the weather is nice. After some experimentation, he set up a cylindrical directional antenna for the 802.11b Wi-Fi wireless network he had set up in his home, and pointed it down to the beach. (People reluctant to spend that kind of money have rigged up similar antennas using Pringles chip cans and other low-tech devices.)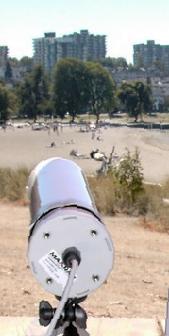 Taking his laptop down to the sand, he found a pretty good signal, and was soon able to surf by the surf. (To be honest, Kits Beach doesn't get any surf, but I couldn't resist the phrase.) Indeed, one of the two demo laptops (on the right in the photo below) was a recent Centrino Windows XP model, with integrated Wi-Fi antennas like those you can also find in Apple laptops. It received the signal from the apartment 1.5 km away without needing any special receiving hardware.

The second laptop (on the left) used a high-power (200 mW) PC Card and the directional antenna (photo on the right, aimed at the apartment tower we're talking about).
Rick claimed that the combination could receive signals right across the bay in downtown, 3 or 4 km farther away from the source. Similar combinations of antennas have been used by other people to extend Internet connections many kilometres into areas where wired high-speed broadband Internet is completely unavailable.
London calling
So far, this stuff is nothing wireless Internet geeks haven't heard of before. What was different was how the Netcetera guys applied it. Alongside the laptops was an IP phone handset, which looked like a typical office phone. Instead of a phone jack, however, it uses a standard Ethernet networking plug, and thus could connect to the wireless network and make phone calls over the Internet. (Software on one of the laptops emulated a VoIP phone to do the same thing.) It was using regular phone lines eventually, but to get to them the signal went through the wireless link, to the apartment building, through a wired Internet connection, across the Internet, and into a 3Com box in a house in North Vancouver, about 12 km away, which is thenplugged into the regular phone network.
Each Netcetera employee has such a phone plugged in at home, all accessing the same North Vancouver phone line. If they move, they simply bring their phones along and make sure they have high-speed Internet service at their new locations. The phone just works, keeping the same number and hooking through the same 3Com box in North Van.
In theory, I suppose, one could take such a phone across the continent and still make VoIP-based phone calls through the North Vancouver number, with some extra voice delay. And, conversely, a properly configured network of phones and interface boxes in different cities can minimize long-distance charges by always calling out from the nearest exchange. For instance, a company with offices in Toronto and Vancouver could call from a Vancouver employee to a Toronto client, and have the call routed through the VoIP box on the Toronto exchange, paying no long-distance charges.
Rick emphasized that the arrangement is economical for Netcetera, even though VoIP phone systems are currently at least 20% more expensive than traditional business phone configurations, because Netcetera has been able to dispense with a single office for which they must pay commercial rent. Many small companies might find VoIP similarly attractive, even though VoIP equipment makers are currently trying to sell mostly to larger firms.
Keep out the prying eyes
Rick also pointed out that most wireless networks are currently insufficiently secure, because they either use no data encryption at all or the flawed WEP encryption standard. The system Netcetera set up on the beach uses a SonicWall wireless router, which provides an IPSec-based virtual private network (VPN) over the wireless link.
What Netcetera was trying to sell at this event was the 3Com VoIP hardware (for which they are a reseller) and their network consulting services, to help people set up wired and wireless networks appropriately and securely. They chose an unusual way to promote themselves, and demonstrated that they know what they're talking about. Their expertise is in Microsoft tools and software, so they're not much up my alley, but their client list shows many have thought otherwise.
PLEASE NOTE: Each journalist or writer who attended the event described here (me included) received a publicity information kit, as well as a free 64 MB USB memory key (a.k.a. silicon hard drive) and, if we wanted it, a cold pop or mineral water. I don't think the gifts affected my impression of the event, but I thought you should know anyway.
If you found this article useful, feel free to consider clicking one of the ad links at the top of the page, which helps pay for hosting this website. Thanks!
<< Penmachine.com home | < Long article index
Page BBEdited on 20-Mar-04 (originally posted 28-Aug-03)
© 2003 Derek K. Miller. Some rights reserved. You may use content from this site non-commercially if you give me credit, under the terms of my Creative Commons license.