To link to this page, use the shortcut buy.penmachine.com.
Buy the CD | The Fine Print | Hear Samples | Track Listing | More Info | My Other Music | Links | Photos
NOW AVAILABLE DIGITALLY AT THE AMAZON MP3 STORE, eMUSIC, OR THE iTUNES MUSIC STORE
PLEASE NOTE: There's another Derek Miller (without the K in the middle) who's actually a reasonably famous, award-winning Canadian musician, and, to be clear, he's not me! Rather, he is this guy, who is quite talented. After you've picked up my album, go check out the several he's released.
Buy the album right now
PLEASE WRITE A REVIEW: I'd appreciate it if you write a review at the CD Baby site, at Amazon, or at the iTunes Store once you've had a chance to hear the album, so that other people can find out what you think of my tunes. The physical CDs are sold out, but you can still buy the downloads!
Purchase options:
Choose:
Price:
What You Get:
Amazon MP3 Store
$8.99 USD or
$0.99 per song
Digital download in unrestricted MP3 format
BUY FROM AMAZON
iTunes Music Store

$9.99 USD or Cdn
or $0.99 per song
(direct download)
Digital download NOW IN HIGH-QUALITY UNLOCKED AAC FORMAT ("iTunes Plus") for iTunes, iPod, computer, or other media player

eMusic
Monthly subscriptions from $9.99 USD (you keep your downloads forever)
Digital download in unrestricted MP3 format
BUY FROM eMUSIC
CD Baby (worldwide)
album download

$9.00 USD
Complete digital album download only
(MP3 format)
Full album in high-quality unrestricted MP3 format
BUY FROM CDBABY
CD Baby (worldwide)
SOLD OUT!
Please buy a download
$12.75 USD
(shipping extra)

1 disc: audio CD and liner notes in jewel case only (no DVD) SOLD OUT!

PayPal (U.S. customers)
SOLD OUT!
Please buy a download

$15.00 USD
(shipping included)
2 discs: audio CD and liner notes in jewel case + BONUS data DVD* (see "the fine print" below) SOLD OUT!

PayPal (Canada customers)
SOLD OUT!
Please buy a download

$15.00 Cdn
(shipping & GST included)
GST #869295311
2 discs: audio CD and liner notes in jewel case + BONUS data DVD* (see "the fine print" below) SOLD OUT!

PayPal (outside U.S.A. & Canada)
SOLD OUT!
Please buy a download

$19.00 USD
(shipping included)
2 discs: audio CD and liner notes in jewel case + BONUS data DVD* (see "the fine print" below) SOLD OUT!

Podsafe for Peace (download)

$0.99 USD
(donated to UNICEF)
Unrestricted audio MP3 download of "If Every Day Were Christmas" charity song (Derek sang in the chorus)

The fine print: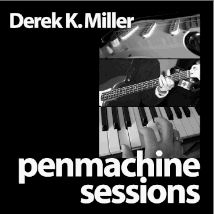 About PayPal: You don't need a PayPal account to send money via PayPal—any major credit card will do. If you have a PayPal account with funds in it, you can use that too. All PayPal purchases include any applicable taxes as well as shipping—what you see is all you pay, and I send directly from my house to you.
About the iTunes Store: The iTunes tracks are no longer locked up with horrible digital restrictions management (DRM), and they're super-high quality, better than you can get here on my site. How cool is that?
About CD Baby: Physical copies of my CD are now sold out. If I eventually get more, the CD Baby price is cheap, but they calculate shipping separately, since they send it from their warehouse in the U.S., so whether it's a better deal depends on where you are. The full-album digital download price of $9.00 is a good deal, though, and gives you unrestricted MP3s, but you can't buy tracks individually.
*About the Bonus DVD: I used to offer a bonus DVD included with direct purchases is a computer data DVD, not a video for DVD players, but it is now also sold out. It worked on Windows, Macintosh, and Linux computers, and included a bunch of totally exclusive stuff:
Pre-encoded versions of all the album songs in MP3, AAC, and Ogg Vorbis format, ready for iTunes, your iPod, or another application or portable device (you don't need to waste time ripping your own MP3 files).
The original uncompressed master audio tracks in AIFF and WAV format, so you can burn full-quality audio CD copies if you want.
The GarageBand master files I used to create the songs, so you can see how they were built and play with the loops and sounds yourself. Remix away! (Probably only works in GarageBand or Logic Audio on the Mac.)
Additional songs and demos, some otherwise unreleased, and bonus material.
A little introductory video from me, playable in QuickTime or iTunes or on an iPod with video capability. (May not work easily on Linux.)
Album artwork graphics.
Some other stuff I've probably forgotten about.
Questions? Email me at dkmiller@penmachine.com. Otherwise, go buy it!
Hear samples and learn more

My album is a bit of an experiment, since you can download full MP3 files of all the tunes right from this website. If you buy it from me, you get a bonus DVD with stuff that's not available online (mostly because it's just too big), plus the knowledge that you help support my music, which should make you feel all warm and fuzzy. That's worth $15, right?
Track listing
Each link in the track listing (44:52 total running time) takes you to more information and a full MP3 download of that tune:
More info about the tunes and my podcast
The songs on Penmachine Sessions (and new additions) are all available as part of the Penmachine Podcast, a page on this site where you can download them. You can also subscribe to the podcast with a program like iTunes (version 4.9 or higher). Then, whenever I add a new track, you'll get it automatically, and it can go straight to your iPod—all for free. Cool, eh? If you don't know about podcasting, then read up or check out Technorati's Podcast search for more references.
If you have iTunes, the easiest way to subscribe is to click the Subscribe link:

, which should open iTunes and take you directly to my podcast page in the iTunes store. Then click Subscribe there to start getting the songs for free.
Otherwise, you can search for "penmachine" in the iTunes store's Podcast directory (see instructions) and subscribe that way. Finally, you can click and drag the orange and grey "RSS Podcast" button
or the address http://www.penmachine.com/rss/podcastmp3.xml to your iTunes window (or other podcast subscription program).
My other musical endeavours
In addition to being a writer and editor, I play drums and sing for about half my living, in two bands, The Neurotics (as "Sticky Neurotic") and HourGlass (as myself), with Sebastien "Dirty Neurotic" de Castell (my old roommate) on vocals, guitar, and keyboards; Mark "Bumpy" Olexson on guitar (or bass) and keyboards; and a rotating cast of other characters that includes Adam "Woody Neurotic" Woodall on vocals, guitar, and harmonica, Sean "Dilly" Dillon on guitar, or Ed "Slappy" Laslo on guitar; and either Dave "Lumpy Neurotic" Haddock, Dirk "Doink" Slow, or Doug "Swingy" Elliott on vocals and bass. We wear wigs and glittery jackets and talk in fake British accents. People seem willing to pay a lot of money for that.
I've been drumming for money since about 1989 (two years after I learned the instrument), which is a bit longer than I've been writing for money. I've played in Terrace and Edmonton, Victoria and Penticton, New York and Melbourne—but mostly around Vancouver. For the full story on my fab-rock combos, visit the Neurotics/HourGlass Web site at www.TheNeurotics.com. (I built the site too.)
Where else to hear my stuff
In addition to cover-band material at the Neurotics site, my original tunes are also available via podcast.net, Odeo, and Podcast Alley, or the Podsafe Music Network:

who's playing my tunes?
who else?
Photos
There are tons of photos in the band photo gallery. Here are some others. (Click any one for a larger version.)
This is what my drums look like. The kit is a bit of a Frankenstein's monster, with a red Pearl free-floating maple snare; burgundy low-end CB Percussion and Pearl Export drums (circa 1990) for the kick, rack tom, and floor tom; and hardware from Pearl, Gibraltar, and Tama. The drumheads are from Remo and Evans, and I use 7A wood- and nylon-tip sticks from various manufacturers. The cymbals are Sabians, made in New Brunswick, Canada, and my earplugs are orange foam ones from the local pharmacy (you can see them sitting on my drumsticks).
Here, I hit things with the sticks (yes, that is a wig too)...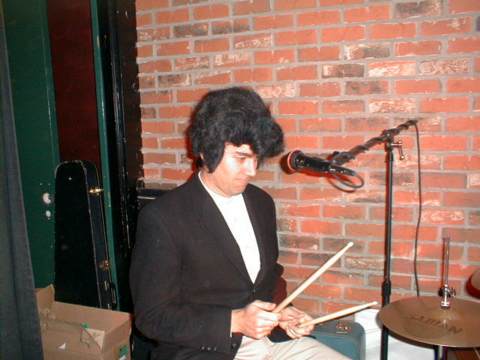 ...while here, I am (in 1995) being just too groovy for words, baby! (I'm the one in front, in the maroon velour jacket.)