Quick links to ...my EAC-BC meeting presentations: Jan 2003 », Nov 2003 », Oct 2004 », Feb 2006 », June 2006 » (also audio)
...my Microsoft Word workshops: May 2004 », Oct 2004 », Mar 2005 », July 2006 »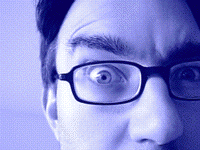 Derek and the Editors' Association of Canada
I joined the Editors' Association of Canada, B.C. Branch (EAC-BC) in early 2002, some years after initially becoming interested. I was on the executive for a year, and now maintain the EAC-BC website. I've made a few presentations to EAC-BC meetings, and also run some EAC-sponsored seminars on Microsoft Word.
This page sums up what I'm doing with the EAC these days.
My Recent EAC-BC Activities
Now let me backtrack.
Should I shut up?
In the spring of 2002, a fellow editor asked me, accusingly, "You really love the sound of your own voice, don't you?" She suggested I let other people get a word in edgewise.
She was right. Her jab came at the end of a raucous monthly EAC B.C. branch meeting, at which I had often been cutting in during a long group discussion. I talked loudly and often. Excessively.
The joy of colleagues
The truth is, I don't much like my voice. It's kind of nasal and whiny. But in a room full of like-minded people, I do love to talk. At the time I had only recently discovered the EAC, joining as a voting member years after I'd originally thought about it. Suddenly I had a monthly mob of others who also know the difference between an em-dash and an en-dash, who care about the words we choose when writing and speaking, and who've spent much of their lives instinctively noticing typos and other errors everywhere -- on posters, in magazines, in e-mails, and so on. People like me.
So in subsequent months I toned myself down a bit. But in January 2003 I decided to take advantage of my volubility: I'd be the one at the front of the room. I'm stepping up my involvement all the time, but I'll try not to talk too much. Watch this page for updates.
Quick links to ...my EAC-BC meeting presentations: Jan 2003 », Nov 2003 », Oct 2004 », Feb 2006 », June 2006 »
...my Microsoft Word workshops: May 2004 », Oct 2004 », Mar 2005 », July 2006 »
Page BBEdited on 5-Jul-2006